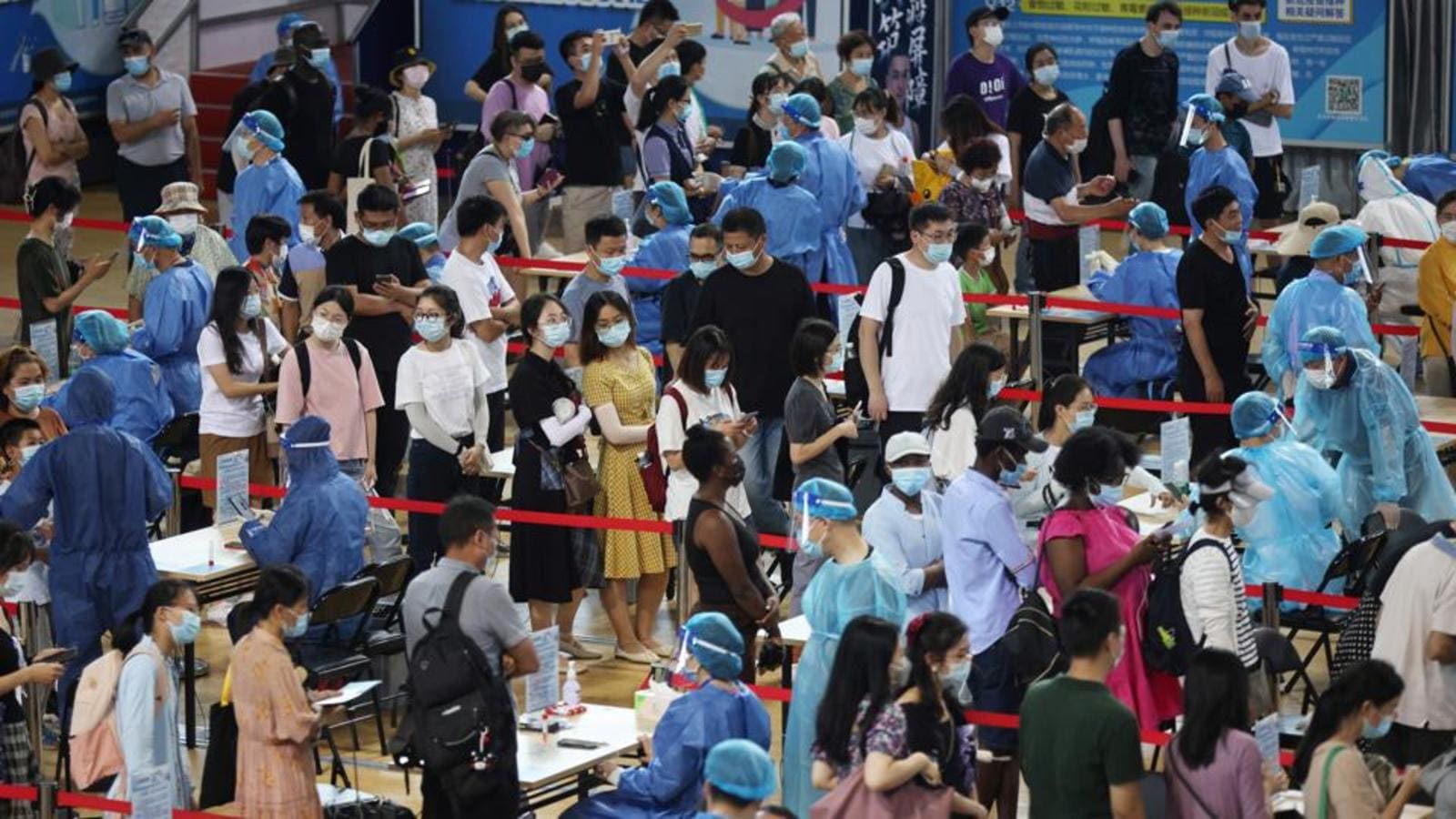 Beijing recorded its first two Covid-19 cases in nearly six months on Wednesday with authorities sealing communities and launching nucleic acid testing for residents in a northern district as health authorities scramble to contain a spreading Delta variant outbreak linked to the eastern city of Nanjing.
Nanjing, the capital of Jiangsu province, has launched a third round of nucleic acid testing for all its 9.3 million residents in just nine days as new infections soared to 171 since last week.
The citywide testing covers all residents, including those who are paying a short visit to the city, health authorities said on Thursday, adding that 18 new locally confirmed cases were reported on Wednesday.
The outbreak linked to Nanjing has spread to at least five provinces and 13 cities including the cities of Beijing, Chengdu in southwest China and Dalian in the northeast of the country.
China reported 49 new Covid-19 cases on Thursday, down from 86 a day earlier, the national health commission (NHC) said.
Local infections accounted for 24 of the cases that were detected on Wednesday, lower than 55 recorded for Tuesday, the NHC added.
Nucleic acid tests for residents in Changping, a district in north Beijing, were launched on Thursday after a couple was found to be Covid-19 positive. More than 650 contacts of the couple have been traced so far.
State media reports said the seven infected persons in Beijing, Dalian, and Chengdu, had recently attended a show in the tourist town of Zhangjiajie in central China's Hunan province on July 22 where an unknown number among the 2,000-odd attendees had flown in from Nanjing.
Nanjing, the second largest city in eastern China after Shanghai, has seen cases of locally transmitted Covid-19 soar since around nine airport workers tested positive for coronavirus on July 20.
The workers at the Nanjing Lukou International Airport tested positive for the virus during a routine inspection.
The official Xinhua news agency reported that tracing of the Nanjing outbreak suggested the source was inadequately protected staff who cleaned aircraft after international flights landed at the airport.
Infections have since spread across the city and beyond including among university dormitory administrators, teachers, and taxi drivers, authorities said.
The city now has classified four areas as high-risk for Covid-19 and 42 as medium-risk areas.
Nanjing has been virtually sealed with inter-provincial transport links suspended.
On Tuesday, the city's centre for disease control and prevention said the virus strain behind the recent spike in Covid-19 cases has been identified as the highly infectious Delta variant.
"Officials therefore have urged those queuing up for the test to wear masks, keep at least one metre apart and avoid chitchat," Xinhua reported.
Since the novel coronavirus emerged in the central Chinese city of Wuhan in late 2019, China has taken a zero-tolerance approach to infections, quickly testing large populations, tracing the contacts of positive cases and locking down communities where needed to break the infection chain.
The current outbreak will be a test of the efficacy of China's vaccination programme under which more than 1.5 billion doses have been administered so far, fully vaccinating around 40% of the population.
Total confirmed Covid-19 cases in mainland China stood at 92,811 and the death toll at 4,636 until Wednesday.