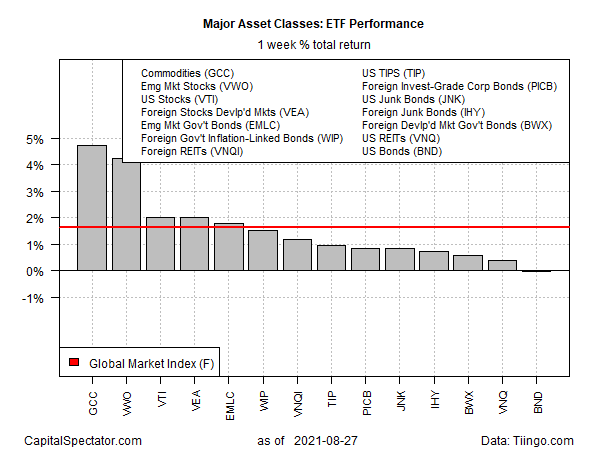 US bonds were last week's outlier, posting a slight decline. Otherwise, all the major asset classes rose last week, based on a set of ETFs for the trading week through Aug. 27.
Leading the gainers: commodities. The equal-weighted WisdomTree Continuous Commodity Index Fund (NYSE:) jumped 4.7%. The increase marked the fund's strongest weekly advance in nearly four months, although the rally wasn't enough to lift the ETF out of its recent trading range.
Stocks in emerging markets were a close second-best performer last week. Vanguard FTSE Emerging Markets (NYSE:) jumped 4.3%, lifting the ETF to its highest close since Aug. 12.
The only loser (just barely) last week among the major asset classes: Vanguard Total Bond Market Index Fund ETF Shares (NASDAQ:). The fund slipped fractionally, losing a trivial 3 basis points. Despite the setback, BND continues to trade in a tight in August after a steady March-through-July rally.
A benchmark portfolio that holds all the major asset classes rebounded last week. The Global Market Index (GMI.F) gained 1.6%, recovering all its losses from the previous week and more. This unmanaged benchmark (maintained by CapitalSpectator.com) holds all the major asset classes (except cash) in market-value weights via ETF proxies.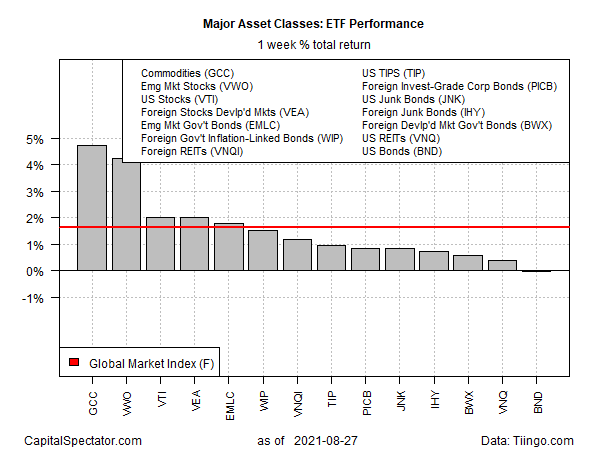 ETF Performance Weekly Total Returns
Turning to the one-year window, US real estate investment trusts (REITs) continue to lead. Vanguard Real Estate Index Fund ETF Shares (NYSE:) is up 35.2% on a total return basis. The second-best one-year performer: US stocks via Vanguard Total Stock Market Index Fund ETF Shares (NYSE:), which is up 33.8% over the past 12 months.
All the proxy funds are posting one-year gains, although by the barest of margins in two cases: US bonds (BND) and foreign government bonds in developed markets ().
Meanwhile, GMI.F is up a strong 22.8% over the past 12 months.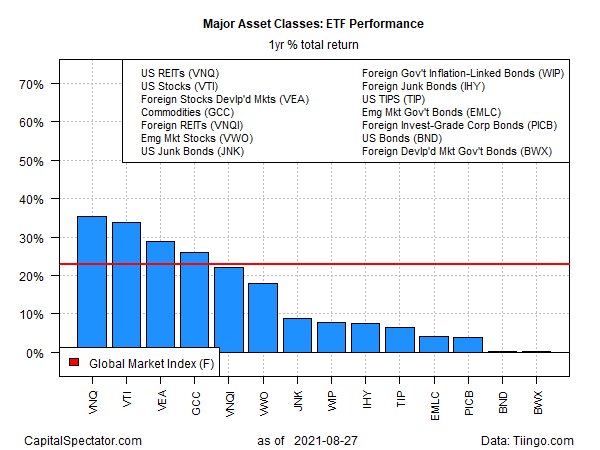 ETF Performance Yearly Total Returns
Thanks to last week's widespread rallies, most drawdowns for the proxy ETFs are either zero or close to zero. At Friday's close, three funds are tied for zero peak-to-trough declines: US Treasury inflation-protected bonds (), US junk bonds () and US stocks ().
GMI.F's current drawdown is also zero.
Drawdown Distribution Histories