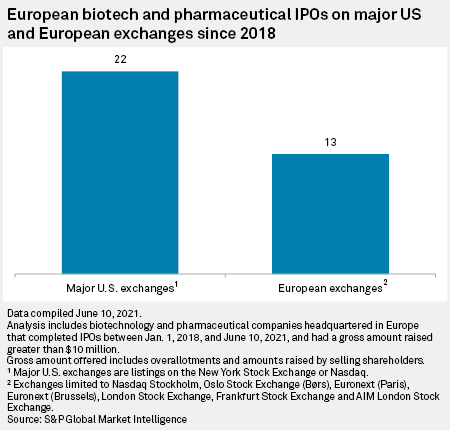 Subscribe on LinkedIn to be notified of each new Daily Update—a curated selection of essential intelligence on financial markets and the global economy from S&P Global.
The U.S. may not need to vaccinate 95% of its population—achieving herd immunity through inoculation—to get to a level of economic activity that resembles business as usual.  
Job and mobility trends are improving in the world's biggest economy, but rising prices are dampening consumers' enthusiasm, according to S&P Global Ratings Chief U.S. Economist Beth Ann Bovino. Upticks in driving, dining, and other undertakings vary across the country. The U.S. vaccination rate is higher those of other North American and European countries. But the vaccination rate is slowing, and many people across the U.S. are hesitant to get a COVID-19 shot. Initial unemployment claims are diminishing, and there are now more employment opportunities than there were prior to the pandemic—but the U.S. jobs market still faces a long road ahead.
Consumers have likely become more concerned about their personal financial conditions, according to Dr. Bovino. Loan-to-deposit ratios are falling at banks across the U.S., with the aggregate ratio reaching its lowest level in four years, at just 58.6%, in the first quarter of 2021, according to S&P Global Market Intelligence.
"Deposit growth has been significant," Lindsey Piegza, chief economist at the investment bank Stifel Financial, told S&P Global Market Intelligence. "No telling where exactly consumers will return first, if at all … Some of these changes in spending patterns may be semi or entirely permanent," she added, explaining that she anticipates deposits will start to decrease as the economy opens up, consumers resume discretionary spending, and the government stimulus comes to an end.
These contrasting conditions point to the realities of an economy recovering from the coronavirus-caused economic downturn, rather than an economy struggling to succeed. While the health of economies during the pandemic have been tied to the health of their populations, the U.S. appears to have reached a sweet spot—where the recovery and vaccination strategy are no longer interdependent.  
"Despite the significant slowdown in vaccination rates, S&P Global's economic projections are unchanged and no longer depend on achieving herd immunity. With about 52% of Americans 12 and older vaccinated, and rates of infection steadily falling, businesses are reopening more quickly. We expect the economy to strengthen further this year," S&P Global Ratings said in a report yesterday.  "We believe that economic reopening at this point has largely decoupled from vaccination efforts because those most concerned with COVID-19 have been vaccinated and those unvaccinated are largely less concerned about the virus. We no longer believe recovery of the U.S. economy hinges on achieving herd immunity."
S&P Global Ratings foresees that the country's daily vaccination rate will stay at the lower level as most eligible Americans who want a vaccine have already received one, but that the U.S. has more than enough doses to vaccinate the entire population by the end of July. Instead of needing to reach herd immunity, the outlook anticipates that vaccine supplies, alongside additional approvals for children, the easing of restrictions, and natural immunity will set the foundation for a full economic recovery in the fall.
Today is Tuesday, June 15, 2021, and here is today's essential intelligence.
Uncertainty in the Global Economy
Listen: The Essential Podcast, Episode 40: The Shape of Populations — The Tectonic Shift in Demographics
James Pomeroy, Global Economist at HSBC, joins the Essential Podcast to discuss the economic challenges of changing populations, the effectiveness of demographics as a reliable indicator, and the economies enjoying demographic tailwinds.
—Listen and subscribe to The Essential Podcast, from S&P Global
Market Dynamics
British Biotechs Swerve London Markets for Nasdaq's Investor Pool, IPO Rules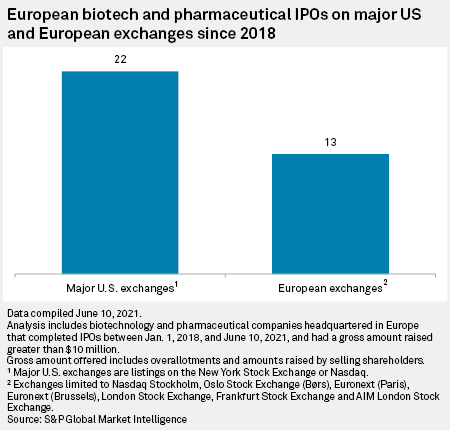 The British like to boast about their home-grown biotechs, although they are less keen to discuss why many of those companies skip London exchanges and engage in IPOs in the U.S. For example, Vaccitech PLC, which sprang up from an Oxford University lab, chose Nasdaq when the company was ready to tap public markets for the first time. The company, which played a key role in developing one of the COVID-19 vaccines, joined a string of its peers, including Autolus Therapeutics PLC, on the U.S. exchange in April. Centessa Pharmaceuticals Ltd. soon followed.
—Read the full article from S&P Global Market Intelligence
Shale Gas Stocks Keep Gaining as Price Moves Up Past $3/Mmbtu and Stays
High summer temperatures and increasing LNG exports, combined with a show of discipline by U.S. shale gas producers, have pushed current and future prices for natural gas above $3/MMBtu through the end of winter 2022.
—Read the full article from S&P Global Market Intelligence
The Credit Cycle
Global Structured Finance: Charting the Recovery From COVID-19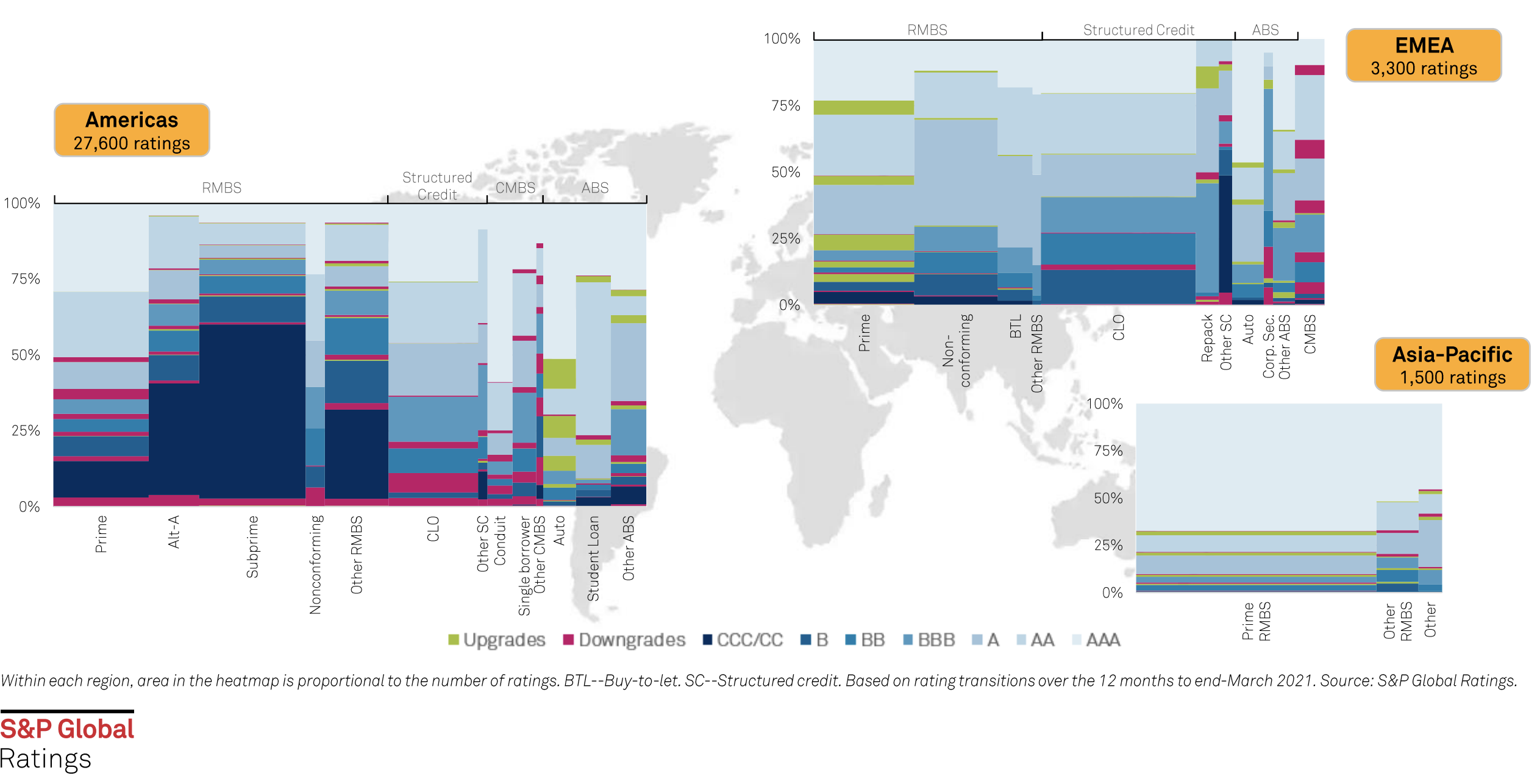 The COVID-19 pandemic seems to be subsiding in most structured finance markets with ratings generally holding up well over the past year, although aggregate ratings migration has turned mildly negative.
—Read the full report from S&P Global Ratings
Banking Industry Under Pressure
Industry Report Card: Japan Major Bank Credit Costs to Subside Slowly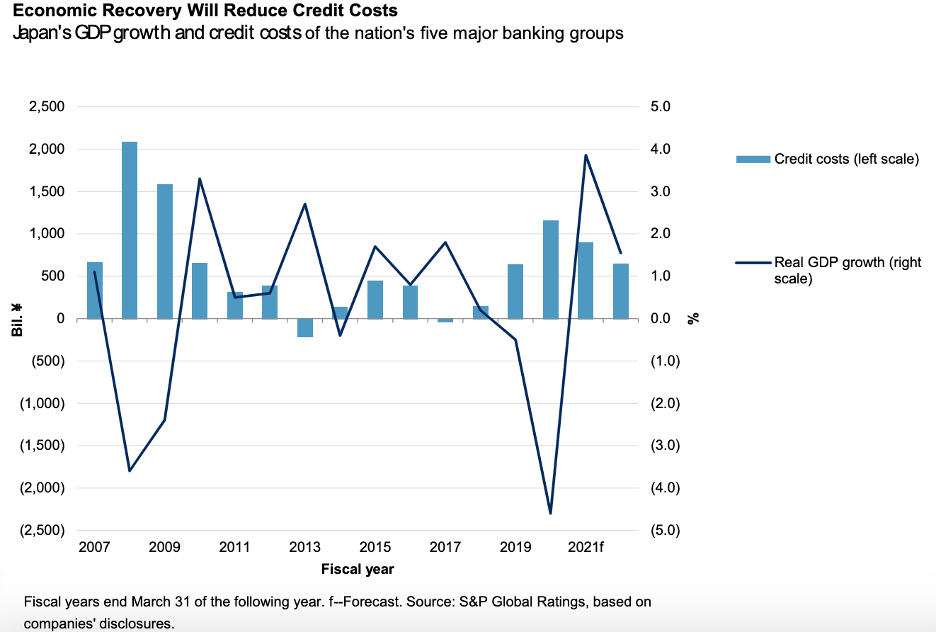 Elevated credit costs will return to pre-pandemic levels in fiscal 2022 for Japan's five major banking groups, in S&P Global Ratings' view. Risk factors for a recovery include potentially weaker creditworthiness among borrowers and irregular conditions in global capital markets. S&P Global Ratings thinks efforts to cut strategic shareholdings will help stabilize capital ratios.
—Read the full report from S&P Global Ratings
Cerberus' Purchase of HSBC's French Unit Could Foreshadow More PE-Bank Deals
Cerberus Capital Management LP played a major role in relieving European banks of bad debt portfolios and underperforming assets in the years following the global financial crisis, and the private equity group's reported interest in HSBC Holdings PLC's French retail banking arm could be a precursor to more deals involving buyout firms in the near future, industry experts said.
—Read the full article from S&P Global Market Intelligence
Technology & Media
Most Tech Firms Would Pay More Taxes Under Proposed Global Minimum Rate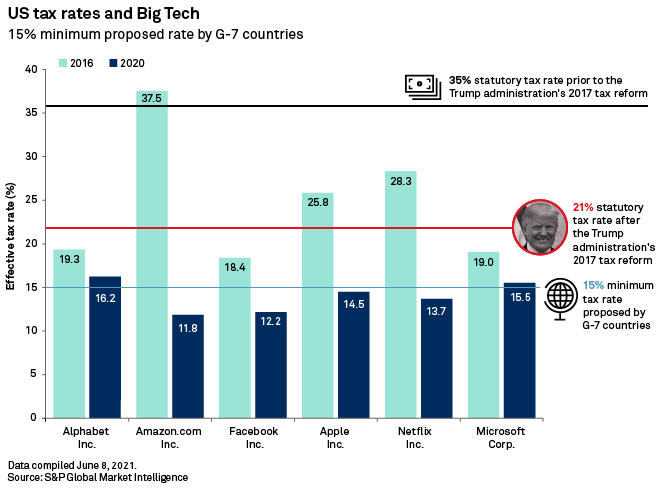 A historic — and complicated — deal aimed at setting a global minimum tax rate would mean a bigger tax bill for most publicly-traded U.S. tech firms, if passed into law. Among select S&P 500 Information Technology companies, a majority are already paying lower taxes than the current 21% statutory corporate tax rate established by U.S. former President Donald Trump. The companies' tax rates are also lower than the 15% minimum global tax recently backed by G-7 finance ministers from the United States, the U.K., Canada, France, Germany, Italy and Japan.
—Read the full article from S&P Global Market Intelligence
Fastly Outage Leads Global Internet Disruptions for Week of June 5
Global internet outages jumped 34% during the week of June 5, to 337, including a technical glitch at content delivery network provider Fastly Inc. that impacted the websites and applications of many of Fastly's global customers on June 8, according to data from ThousandEyes, a network-monitoring service owned by Cisco Systems Inc.
—Read the full article from S&P Global Market Intelligence
Content Consolidation Drives Media Deal Adviser Fees in May
The content consolidation wave turned into a tsunami in May as U.S. media companies sought to better position themselves in the global streaming wars. S&P Global Market Intelligence counted 104 sector deal announcements with disclosed transaction values in May, compared to 106 in April. By comparison, the sector saw 68 announcements in May 2020, when deal activity had stalled during the pandemic.
—Read the full article from S&P Global Market Intelligence
ESG in the Time of COVID-19
Cal-ISO Declares Restricted Maintenance Operation on Heat, High Loads; Prices Spike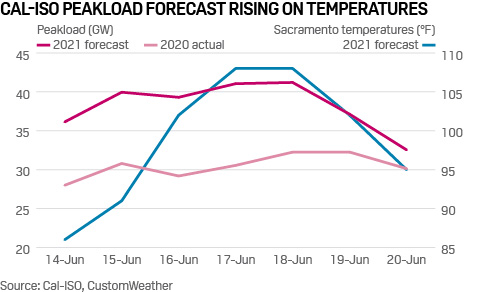 The California Independent System Operator has declared restricted maintenance operations through June 18 to high load from above-normal temperatures, driving up cooling demand as well as wholesale power and gas prices across the region.
—Read the full article from S&P Global Platts
G7 Pledges to End Support for Unabated Coal by End of 2021
G7 leaders committed June 13 to end new direct government support for unabated international thermal coal power generation by the end of 2021. Leaders of the seven major industrialized nations – the UK, US, Canada, Japan, France, Germany and Italy – were meeting in Cornwall under the UK's presidency of the group.
—Read the full article from S&P Global Platts
Material Swapping Can Boost Aluminum Use If Sustainability Awareness Grows: JW Aluminum
Aluminum's sustainability profile has made it an increasingly viable option for material substitution in key end markets such as transportation and construction, but industry outreach to further educate downstream users on these properties can ensure that this substitution becomes more prevalent and remains a long-term demand trend, JW Aluminum Chief Commercial Officer Ryan Roush said.
—Read the full article from S&P Global Platts
The Future of Energy & Commodities
Watch: Market Movers Americas, June 14-18: Markets Watching Court Ruling, U.S.-EU Trade Talks
In this week's Market Movers Americas, presented by Phillipe Craig: Canadian crude braces for US court ruling on pipeline project; US, EU to address trade, global capacity at summit; White House considers RIN price relief for US refiners; cooler temps seen suppressing US power demand; Aframax freight rates depressed amid sunk arbitrage.
—Watch and share this Market Movers video from S&P Global Platts
S Korea May PVC Exports Hit Multi-Year Low; Exports to India Lowest In A Year
South Korea's PVC exports in May fell 35.9% from a month earlier to hit a multi-year low of 23,842 mt, dragged down by weak demand in India, the most recent data by Korea Customs showed. South Korea's PVC exports to India in May sank 66% from April to a one-year low of 6,636 mt, the data showed.
—Read the full article from S&P Global Platts
Canadian Gas Exports on Northern Border Reach Five-Month High Despite Bakken Growth
Canadian exports on North Border Pipeline increased by an average of more than 200 MMcf/d over the past seven days compared to the week prior, as Bakken Shale's share on the pipeline has declined despite a steady recovery in rig counts, natural gas production and returns in the North Dakota play.
—Read the full article from S&P Global Platts
Listen: Biden's Venezuela Policy After Maduro Outlasts Trump's Maximum Sanctions Pressure
Venezuelan sanctions and the Maduro regime have been a backburner issue so far for US President Joe Biden. When he was elected, many energy analysts predicted he would grant some sanctions relief on humanitarian grounds. Fernando Ferreira, director of Rapidan Energy Group's Geopolitical Risk Service, predicts we'll start to see the White House's direction on Venezuela later this year. Stick around after the interview for the Market Minute, a look at near-term oil market drivers.
—Listen and subscribe to Capitol Crude, a podcast from S&P Global Platts
Written and compiled by Molly Mintz.