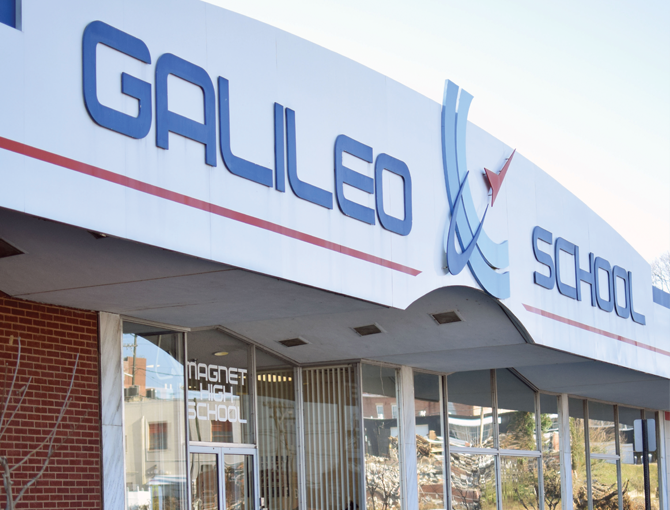 DANVILLE, Va. — On April 27, U.S. News and World Report released their Best High School rankings, and Galileo Magnet High in Danville earned high national and metro-area rankings. 
Galileo's national ranking is #1,214 of 17,857 schools, which puts them in the top 40 percent and earning the U.S. Best High School status. 
Galileo is also ranked #185 out of 1,009 magnet high schools and #31 of 301 Virginia schools. 
The school is no stranger to being named a Best High School, as they have received the honor for the past several years. Their ranks have even improved since last year, when they were ranked #1,931 nationally and #240 in magnet high schools.
Galileo Principal Michelle Ramsey said the school's "pattern of excellence" in students and faculty continues to amaze her. 
"Our faculty, staff and students work together to make this achievement and other achievements possible," Ramsey said. "They truly are one of a kind and I am blessed to work with such an incredible faculty and student body. Way to go, Falcons. Let's continue to soar."
The U.S. News Best High Schools rankings include data on more than 24,000 public high schools in 50 states and the District of Columbia. 
The nearly 18,000 schools were ranked on six factors, including college readiness, math and reading proficiency, math and reading performance, underserved student performance, college curriculum breadth and graduation rate.
According to the U.S. News and Record, Galileo has a 100 percent graduation rate, as well as 90 percent in reading proficiency and 95 percent in mathematics proficiency.
In addition, Galileo was also named one of the 100 Best W!se High Schools Teaching Personal Finance. 
The "100 Best W!se High Schools Teaching Personal Finance" program, in its ninth year, is the first and only national ranking in high school financial education, recognizing excellence in personal finance instruction within W!se's network of schools participating in its financial literacy certification program.
Galileo was ranked #9 overall, and #6 in small schools.