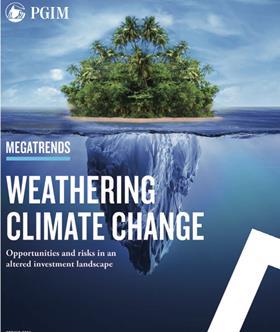 While this is important, there is another lens through which the impact of climate change on investments should be considered. That is through the economic analysis of climate-related impacts on the risks and returns of portfolio investments. David Hunt and Taimur Hyat, the president and chief operating officer respectively, of PGIM, have produced a report that attempts to do just that.
I spoke to Taimur Hyat on PGIM's work. The report is based on conversations with 30 leading academics, economists, policymakers, scientists and climate change investors. It also involved about a hundred global institutional investors and PGIM's own internal investment professionals. 
Asset managers and owners face a bewildering array of scenarios and risks to respond to as a result of man-made climate changes caused by the emission of greenhouse gasses. Perhaps the key fact to understand is that whatever scenarios are modelled, the physical climate risks are locked in over the next 15 years by the emissions seen over the past 15 years. This future time horizon conveniently happens to be the career horizon of most CIOs. And this, as Hyat says, is somewhat liberating since most are struggling with the permutation of outcomes, the majority of which will only be observed by their successors. 
However, the second key theme is that, while the economic implications are clear, the impact on economies will vary between different countries and sectors. Canada, Russia and northern Europe will be less affected than countries in coastal or equatorial regions such as Brazil, India, Nigeria and Vietnam, important emerging markets. 
There are many other factors in emerging markets that make them attractive such as technological transformation, and economic growth – both export led and through growing domestic consumption. Youthful populations in India and Africa are also strong drivers for GDP growth. The question is how strong these factors are in offsetting the negative climate change implications. Some countries are better placed than others. Russia will face fewer challenges than India. China will also be more resilient given its northerly regions and diversified manufacturing base (including climate change relevant technologies). 
But to the extent that countries do not respond to climate change because of their fiscal situation or a lack of focus then they will be hard hit, says Hyat. Indonesia, for example, is already taking positive steps by moving its capital a thousand kilometres east from Jakarta, to East Kalimantan, on Borneo – a response to pressures including the environmental burdens of high air pollution and sinking land in Jakarta.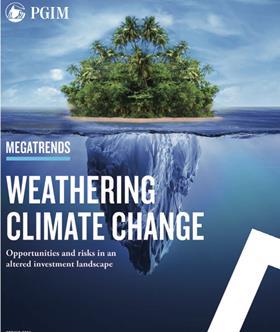 If climate change externalities are never going to be priced into asset valuations, then non-ESG investors need not care about them. At the other extreme, if every aspect of future climate change has been internalised into asset prices then again, there would be no opportunity for active investors to generate outsized returns by incorporating climate change risks and opportunities. Fortunately, says Hyat, PGIM sees the world at a point where most of these risks have not yet been internalised but definitely will be in the future. This means that there is scope for active investors to outperform by recognising the impacts of climate change on their assets.
Asset price drivers
Hyat sees five factors driving an increasing internalisation of future climate change on asset prices. The first is that investors are influenced by what they see around them. The recent Australian wildfires, extreme weather events in Texas, drought and forest fires in California, and even European weather anomalies, have brought climate change to the fore. The second driving factor is data. If the data did not exist to distinguish between companies that are building climate-resilient businesses from those that are not, it would be hard for investors to choose between them. While the data must improve, there are many companies providing hard data on environmental impacts, helping investors to disentangle winners versus losers at the security level. The third factor is that consumers are now voting with their feet, whether abstaining from meat, not using plastic bags to buying electric vehicles. These trends are going to affect market pricing. The fourth and hugely important factor, is government action, with more of it happening in the US under the new Biden administration. The final factor is litigation, although this may be more of a US phenomenon, says Hyat. 
Some combination of those five will eventually internalise climate externalities. The key question for investors is whether it will be a sudden sharp 'Minsky moment' shock, catalysed by an event such as the recent cold wave that froze Texas. Or will it be a more gradual government and central bank intervention that creates a gentler path but nevertheless still ends up with an internalisation of climate change impacts on asset prices.
Given the critical nature of climate change, investors need to decide whether they are on a path of divestment, or engagement with the fossil fuel industry, or any company that has a fossil fuel, carbon or energy footprint. Institutions that have a net zero target might find engagement harder. But there are many who would see divestment as an irresponsible investment strategy. Making the world a better place requires engagement. PGIM argues, as many would agree, that fossil fuels will be in some shape or form with us for the next three decades or longer. For investors however, the data exists and to try and distinguish between those companies that are better than others in their sectors with regard to environmental impact.
Hyat argues that CIOs need to be aware that data is getting richer and incorporating it into the investment decisions and processes is increasingly important. PGIM sees US real estate asset management as at the forefront of that. Its own real estate business, rather than using the outdated maps that the government employ, uses satellite imagery, updated flood maps and about a dozen different environmental indicators. These help inform decisions on what a building is worth and what resiliency investments are needed to make it more valuable for investors. 
Hyat's final point is that there are hidden-climate related risks that every security – whether fixed income or equity – has embedded within it. Pristine semiconductor factories, for example, rely on manufacturing in places such as Arizona and the southeast of the US that are facing increasing water stress. Pharmaceutical companies may be headquartered in Europe, but their manufacturing sites in places like India, also face water stress. Measuring, monitoring and managing such environmental impacts of corporate operations is, says Hyat, an issue that CIOs need to get to grips with if they seek to incorporate climate change into the risk/return analysis of portfolios.  
Joseph Mariathasan is a contributing editor to IPE and a director of GIST Advisory