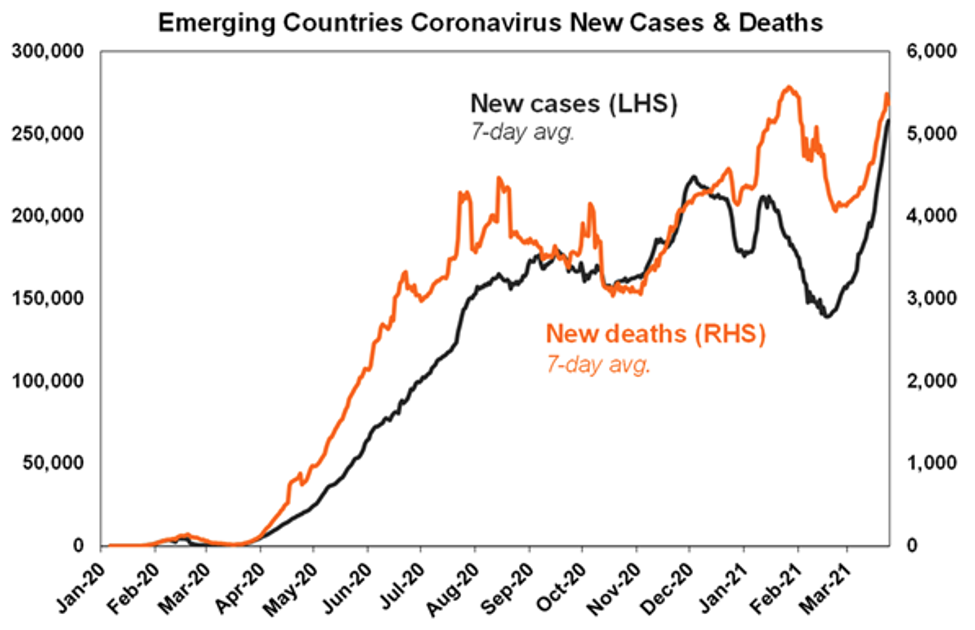 Market
sentiment was more cautious to start the week on concerns about the
economic reopening from rising COVID-19 cases and vaccine delays. US shares on
the S&P500 still managed to close the week 1.6% higher, with a rally
towards the end of the week, while the heavier tech NASDAQ index was down by
0.6%. NASDAQ shares are now down by nearly 7% since a peak in mid February. Australian
shares rose by 1.7% over the week, with all sectors rising except for
information technology. 
US 10-year
bond yields have retreated slightly to 1.67% after last week's peak at around
1.75%. The $US also continues to track higher and was up by 0.9% over
the week. After the $US fell to a two year low early in 2021, it has rallied by
around 4% on better US economic news and higher yields. We still expect the $US
to weaken over 2021 on stronger global growth but in the short term it could
appreciate further. The $A has been weakening as the $US has been
rising, with the $A trading at US$.7637 at the end of the week, down from
nearly US$0.80 in late February.
A 400 metre
container ship stuck in the Suez Canal has caused havoc to trade routes in the
area. Around 9% of global seaborne oil passes through the canal. Oil prices are
getting supported by the supply disruptions created by the ship but are also
under pressure from concerns around demand from a slower economic re‑opening. The
oil price ended the week relatively unchanged at $64.57/barrel. Iron ore prices
have also been weakening and are now at $US155/tonne, down from ~$US170 a few
weeks ago, from faltering Chinese demand.
Global
COVID-19 cases are trending higher again (see chart below) after some
stabilisation in recent weeks.
Source: ourworldindata.org, AMP Capital
Cases in
developed countries cases are still declining. Although Europe cases have
started to pick up again particularly in Italy, Germany and France because of
variant strains. Emerging countries cases are rising swiftly (see the chart
below), getting close to their prior highs, with elevated numbers in Brazil,
India, Turkey, Pakistan and Bangladesh.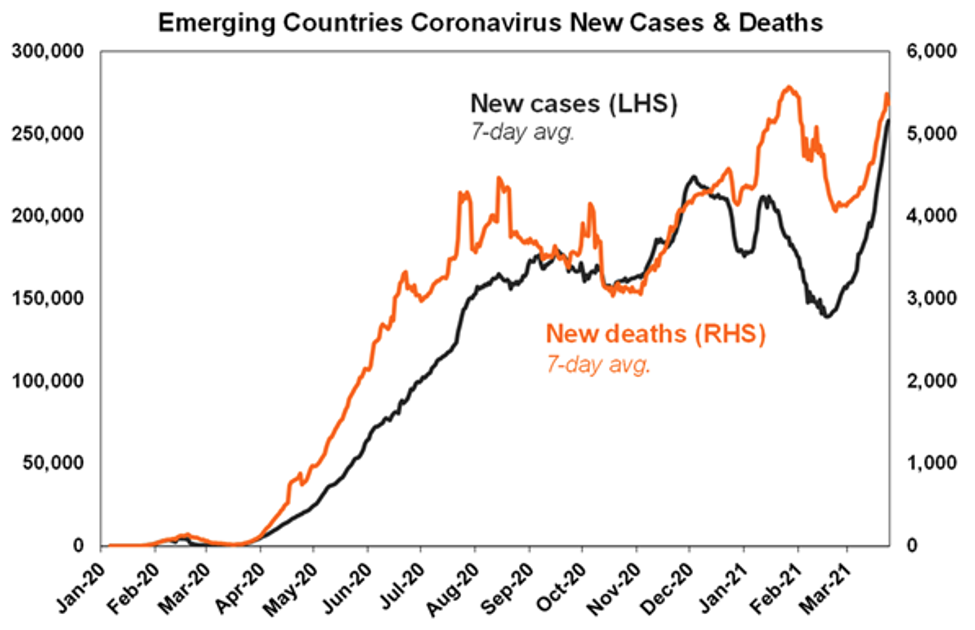 Source: ourworldindata.org, AMP Capital
European
vaccine rollout continues to be slow moving with the EU this week making
comments that it could potentially block shipments of the AstraZeneca vaccine
to countries outside of Europe (mainly targeting the UK) if the delivery
targets for Europe were not first met. Strict mobility restrictions and the
slow vaccine rollout continues to weigh on our European Activity Tracker, which
has stepped down marginally again (see chart below) as some European countries
have gone into another short lockdown. The US Activity Tracker picked
up significantly this week on better confidence, mobility, restaurant bookings,
hotel bookings and retail traffic. This is consistent with slowing US virus
cases. The Australian Activity Tracker flat-lined this week but is
still positive and showing that activity has recovered to pre-COVID levels.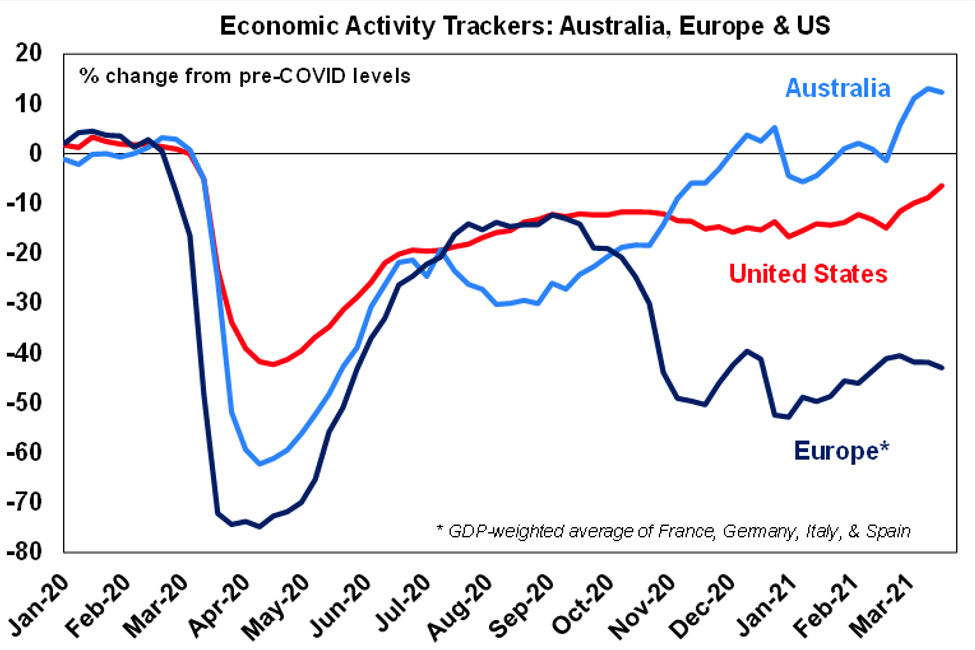 Source: AMP Capital
In
Australia, those of us in NSW are grateful for the better weather after a
week of horrific rain, which also spread to some parts of Victoria and southern
parts of Queensland and caused tens of thousands to be evacuated. The economic
impact will show up in lower mobility data, some weakness in retail sales but
is unlikely to be long lasting. Coal prices have been increasing from the
supply disruptions in Newcastle.
US
President Joe Biden gave his first press conference this week. While there
was speculation that there would be some announcement on the next spending
package, there was no mention of this. The next spending bill is likely to be
around the $3 trillion mark focussed on infrastructure and investment. There
may end up being multiple bills passed, depending on the support that is
received from the Republicans. Republicans are not likely to agree to
significantly higher taxes to pay for infrastructure or green energy plans. But
multiple bills also have complications because the reconciliation process
doesn't' allow for unlimited bills. Biden did mention that his initial target
of vaccinating 100 million people in his first 100 days in office has now been
doubled to 200mn. So far, the US has vaccinated 130.4 million people (or around
26% of the population). There was no other major news to the vaccine rollout
this week.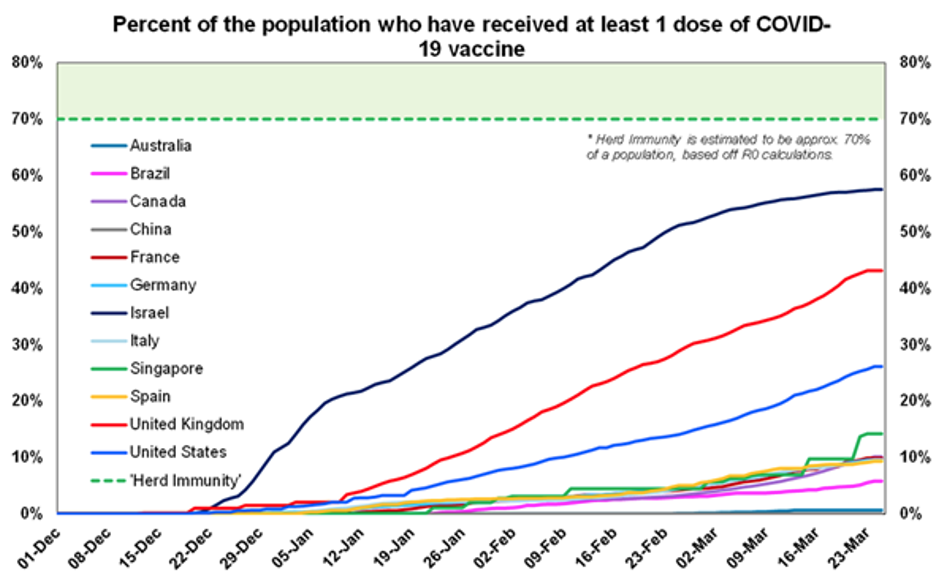 Source: ourworldindata.org, AMP Capital
Powell and
Yellen testified before the House Financial Services Committee. Comments
around the risks to inflation continue to be downplayed – Powell and Yellen
expect that inflation will move higher in 2021 from supply-chain bottlenecks
and base effects but that this effect will not be large or persistent. 
In
Turkey, President Erdogan replaced the central bank governor unexpectedly
because the central bank hiked interest rates more was deemed necessary (875
basis points worth of hikes in four months). This move has questions the
independence of the central bank and further downside is likely in the Turkish
Lira and other Turkish assets. We have seen some emerging markets start to hike
interest rates recently (see chart below) to prevent capital outflows as global
growth picks up and global bond yields lift which moves capital away from
emerging markets and puts downward pressure on currencies which leads to
inflationary pressures and higher debt burdens (because a large chunk of
emerging market debt is in $US). Higher interest rates should limit these falls
in emerging market currencies.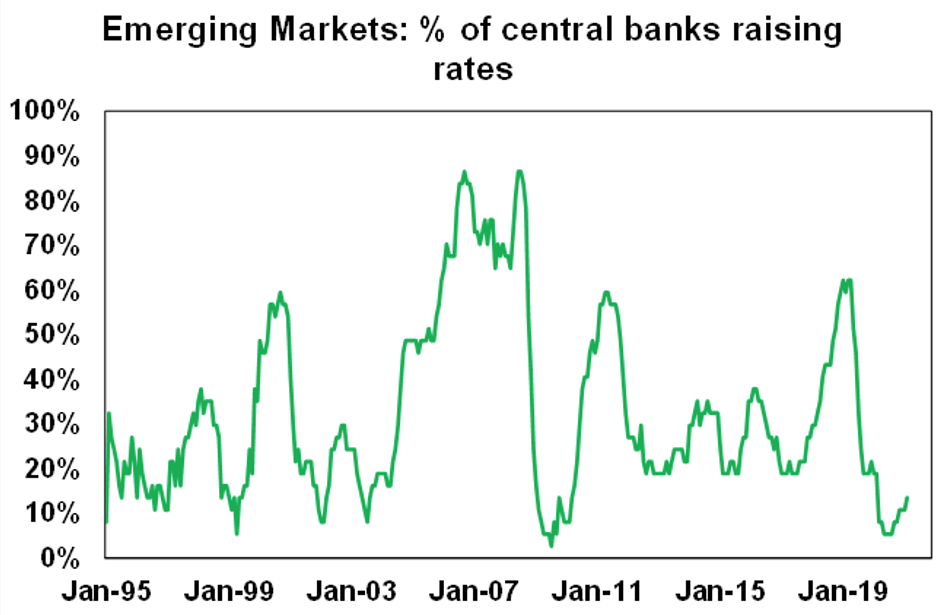 Source: BIS, AMP Capital
The New
Zealand Labour Government implemented some big changes to housing policy
this week to cool medium-term house price growth and avoid risks around
elevated investor lending. Changes include: removing interest deductions (or
negative gearing) for investors (except for new builds), increasing the time
that you need to hold onto a property for to avoid paying tax when you sell to
ten years from five years (which reduces churn in the housing market), giving
more people access to the First Home Grants and Loans scheme with increased
income and house price caps and plans to boost housing supply. The government
wants to tilt the balance in the housing market away from investors and towards
first home buyers. The New Zealand housing market has been running very hot
since the pandemic with house prices up by 22.8% over the year to February.
While Australia has also seen a very fast turnaround in the housing market,
home prices are up by 2.6% across the eight capital cities (see the chart
below) which is much smaller compared to New Zealand. Following this news, the
$NZ has fallen by around 7%. In the long-run, these changes are likely to mean
lower home price growth, lower housing debt, less interest rate hikes required
by the Reserve Bank of New Zealand and potentially some upward pressure on
rents (although new builds still qualify for negative gearing concessions).
Australia is unlikely to follow suit with changes to negative gearing or
capital gains tax (remember these policies were not looked upon favourably at
the last federal election) but macro prudential policy is likely to become
implemented gain over 2021 to slow down the frenzy in the housing market.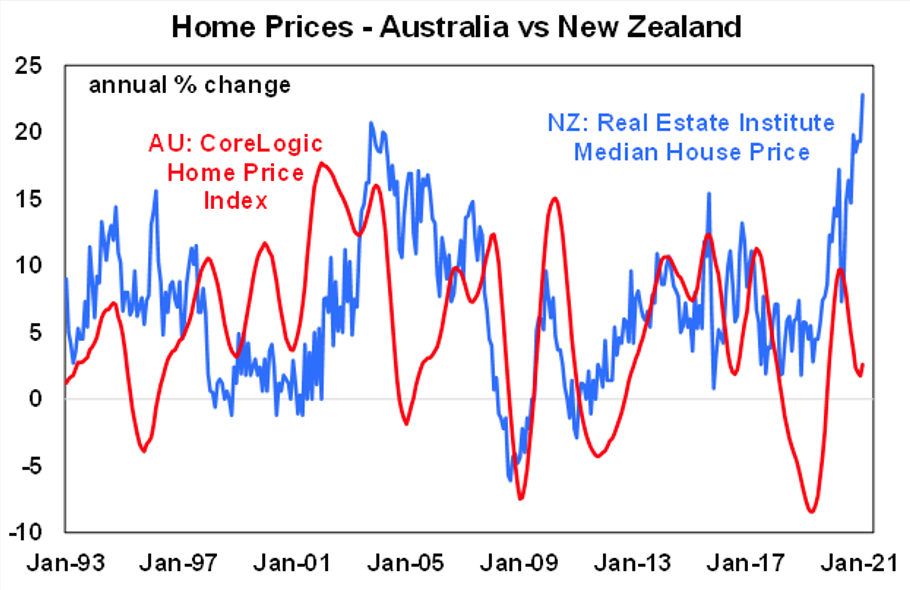 Source: Bloomberg, CoreLogic, AMP Capital