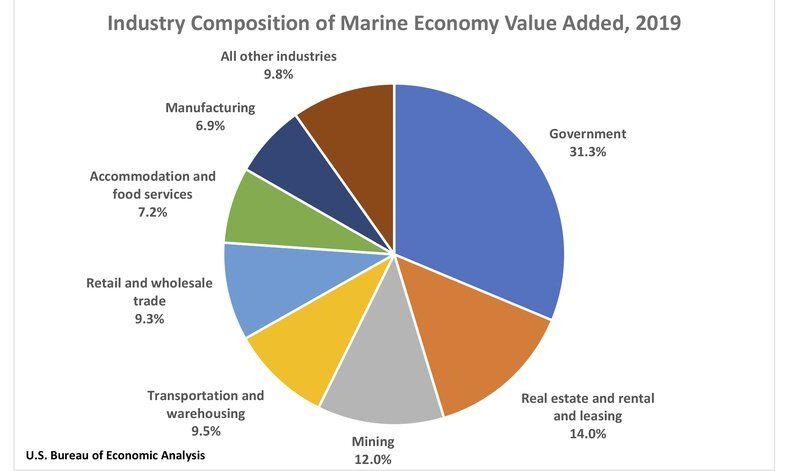 Apparently, there's no feeling blue about the U.S. blue economy.
The segment of the nation's economy related to its oceans and the Great Lakes flexed its economic muscle in 2019 in sales ($665.7 billion), jobs (2.4 million) and its contributions to the overall U.S. gross domestic product ($397 billion), according to a report released Tuesday by the federal Bureau of Economic Analysis.
The report on the marine economy, the first of its kind, stated the blue economy grew almost twice as fast in 2019 as the overall U.S. economy, posting a 4.2% increase in gross domestic product, compared to 2.2% for the overall U.S. GDP. Overall, the marine economy represented 1.9% of the U.S. GDP in 2019.
The report was developed from data compiled by National Oceanographic and Atmospheric Administration and the Bureau of Economic Analysis. Both come under the U.S. Department of Commerce.
Officials from those agencies said the report reflects the surging importance of the nation's marine economy within the overall U.S. Economy.
"These statistics show how powerful America's blue economy is as a driver of jobs, innovation and economic growth," said acting NOAA Administrator Ben Friedman.
The living marine resources sector of the marine economy, which includes commercial fishing and aquaculture, ranked sixth in economic activity at $26.6 billion.
"America's strong marine economy is absolutely vital for building back better," said Secretary of Commerce Gina M. Raimondo, who added that the Biden administration "sees the immense value and potential of strengthening America's blue economy."
In many ways, the top six elements of the marine economy mirror much of the commercial activity that already exists on the waterfronts of Gloucester and throughout Cape Ann.
The leading segment in the blue economy in 2019 was tourism and recreation — which includes recreational fishing — with sales of $235 billion.
It was followed by national defense and public administration ($180.4 billion), offshore minerals ($93.1 billion), transportation and warehousing ($63.8 billion), non-recreational ship and boat building ($31.2 billion) and the living marine resources segment ($26.6 billion). 
Contact Sean Horgan at 978-675-2714, or shorgan@gloucestertimes.com. Follow him on Twitter at @SeanGDT
||||